5-LUG REAR DISC BRAKE KIT LATE MODEL FORD 9-INCH TRUCK AXLE HOUSING
This part is no longer available.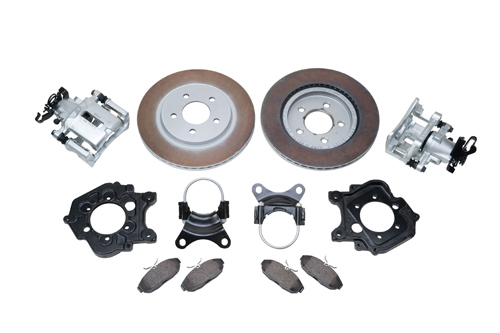 Looking to add some stopping power to the rear of your classic Ford? Tired of searching through junk yards or settling for mismatched rear disc brake parts? This Ford Performance rear disc brake kit includes OE quality calipers, rotors and mounting components.
Kit includes 11.8" vented rotors, single piston calipers with integral parking brake, custom mounting brackets and attaching hardware.
Rotors feature the common 5-hole, 4.5" diameter passenger car bolt pattern with 2.780" center hub
Mounting brackets fit the popular 9" late Ford axle housings with 2" x 3.56" pattern and big 3.15" diameter bearing.
This kit is designed for vehicle installations with a 2.5" brake gap (housing flange-to-axle shaft flange).
Includes E-coated caliper mounting brackets, moan braces and dust shields.
Due to large 11.8" diameter rotor and floating caliper design, most production and aftermarket 15" wheels will not fit.
NOTE: Wheel spacers not recommended for use with brake kit
NOTE: Does not fit Mustang 8.8" axle.
NOTE: Hoses, tubes, parking brake cables and wheels are NOT included in this kit. Additional parts and machining may be required. For more information, call the Techline at (800) 367-3788.

Service Replacement Parts

To purchase service replacement parts visit your nearest Ford or Lincoln Dealer

Rear Brake Pads

Ford Service Part: 8R3Z-2200-A
Motorcraft: BRF1426

Rear Brake Rotors

Ford Service Part: 5R3Z-2C026-AA
Motorcraft: BRRF45
Part Type
Chassis: Brake Kits / Components
Warranty Availability
Not Available
Packaged Dimensions
9.5" x 14.5" x 29.5