Due to COVID-19 staffing precautions, the Ford Performance TechLine phone system is offline. We are still here to help. Live Chat is available. Click here for contact information.
2005-2014 MUSTANG HOOD LIFT KIT W/ LASER ENGRAVED FORD PERFORMANCE LOGO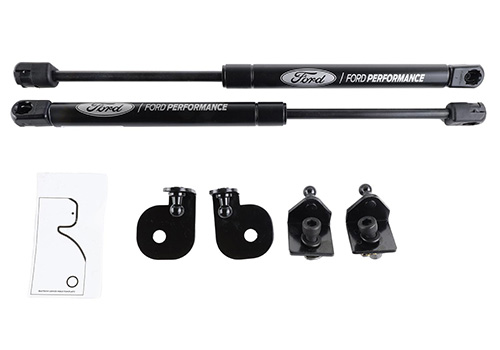 M-16826-M
Sold in Units of
Each (1)
Simply start to lift your hood and let the Hood Lift system take over. Your hood will lift and hold firmly at the raised position - no wind or bumping will knock your hood down on your head. These gas struts are rated at 90 LBS to hold up OEM and specialty hoods.
Fits 2005-2014 Mustangs
90 LBS Rating
Designed for all OEM base, Mustang GT, GT500, and many aftermarket hoods
These hood lifts utilize two gas struts that lift and hold the hood without the need for a prop-rod
Made from lightweight steel and aluminum, they feature a durable black power coated finish to give your engine bay a much cleaner appearance
Includes the necessary mounting brackets
No Drilling Required. The stamped steel brackets included in this kit are designed to bolt into the existing mounting holes in the hood so there is no drilling required for installation
If your aftermarket hood is lighter than the factory hood, use caution when opening the hood due to the power of the strut
Part Type
Body: Functional
Warranty Availability
Not Available
Packaged Dimensions
6.5" x 4.5" x 14.5
Packaged Weight
2.6 lb(s)
Country of Origin
Taiwan, Republic of China