427 CUBIC INCH BOSS SHORT BLOCK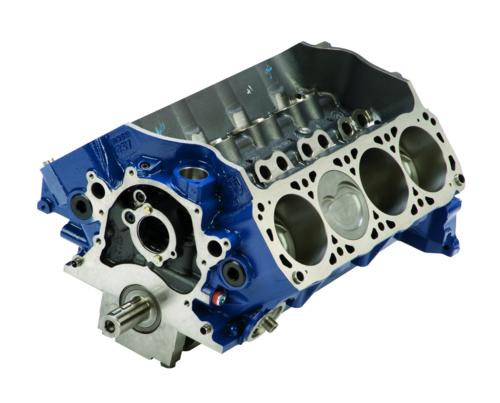 M-6009-427F
Sold in Units of
Each (1)
WARNING:

This part is designed and intended for competition use only or off-highway use only. It should not be installed on a vehicle that is driven on public roads and highways. Installation of this part on a vehicle driven on public roads and highways is likely to violate U.S. and Canadian laws and regulations relating to motor vehicle emissions.

The Ford Performance 427 short block lets you build it your way by adding your choice of heads, cam, intake and oil pan. It's the perfect foundation to build a powerful 9.5" deck engine for your vintage muscle car, street rod, Fox Body or Late Model Mustang. This is the same short block used in the 575 HP Z427 crate engine. Nothing but the best parts are used inside including: forged crankshaft, forged I-beam connecting rods with floating piston pins and the BOSS 351 block. This short block is hand assembled with performance clearances in the US. The 427 short block fits many of the vehicles originally built with Windsor and Cleveland small blocks.
Engine type: 351 based small block Ford
Displacement (cu in): 427
Bore x stroke (in): 4.125" bore x 4.00" stroke
Block: Boss 4-bolt main block M-6010-BOSS35195 9.5" deck height
Piston to Deck Height: .005" below piston to deck height (nominal)
Crankshaft: SCAT® Forged Steel: 4.000" stroke
Connecting rods: SCAT® forged steel H beam connecting rods with floating pin and ARP® bolts
Pistons: Mahle® forged aluminum, with reliefs for Z304D, Z304P, N351, and other inline valve Windsor cylinder heads. 17 cc piston dish. Check piston to valve clearance.
Hydraulic roller camshaft compatible
Internally balanced
Recommended cylinder head fasteners M-6065-BOSS head bolts or M-6014-BOSS studs depending on application
Most aftermarket performance cylinder heads are compatible with this short block. Ford Performance short blocks are built with pistons designed for 20° valve angle heads and will fit stock or spread valve guide centerlines.
Designed for M-6049-X306//X307/Z304DA cylinder heads. Not designed for production 302/351W or M-6049-Y302/Y303/X302/X303/X304/X305 cylinder heads
Assembled and ready for your heads, cam and timing chain set
Requires head gaskets M-6051-R351
351W bolt pattern, oil pan and timing cover
High-performance harmonic balancer M-6316-D302 is recommended
Built with all NEW PARTS
Photo and specs may vary
Part Type
Engine: Short Blocks
Warranty Availability
Not Available
Package Dimensions
31" x 24" x 25"
Country of Origin
United States