5.2L COYOTE ALUMINATOR XS SHORT BLOCK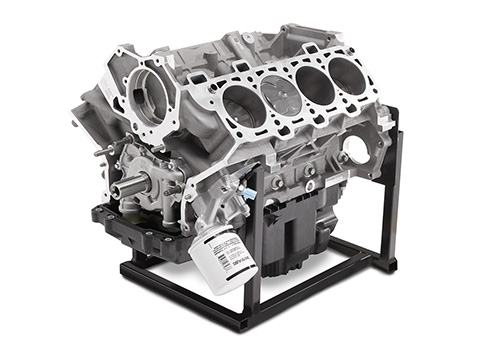 Ford Performance has taken the technology and hardware developed for the Shelby GT350 Mustang and created the ultimate, naturally aspirated, 5.2L cross-plane crankshaft crate short block.
Every Aluminator is hand assembled by the same technicians that built the Mustang Cobra Jet drag racing engines. Premium aftermarket components are used to ensure durability, like; Manley® connecting rods, ARP® rod bolts, Mahle® forged pistons, and billet oil pump gears.
Short block from the M-6007-A52XS engine
Excellent basis for custom Coyote based engine builds
5.2L
317 Cubic Inches
12:1 Compression Ratio when combined with 5.2L cylinder heads
Mahle® hard anodized forged pistons with low friction coating
Mannle® H-beam connecting rods with ARP2000® bolts
Ford Performance M-6303-M52B Forged steel cross-plane crankshaft
Uses Ford Performance M-6010-M52B Shelby GT500 cylinder block
Ford Performance M-6600-M50A billet steel gerotor oil pump gear set
Ford Performance M-12A227-CJ13 high RPM pulse ring
Part Type
Engine: Short Blocks
Warranty Availability
Not Available
Package Dimensions
43" x 44" x 46"
Country of Origin
Multiple Cntry Mfg. Locations