2018-2021 MUSTANG GT CALIBRATION W/COLD AIR INTAKE AND THROTTLE BODY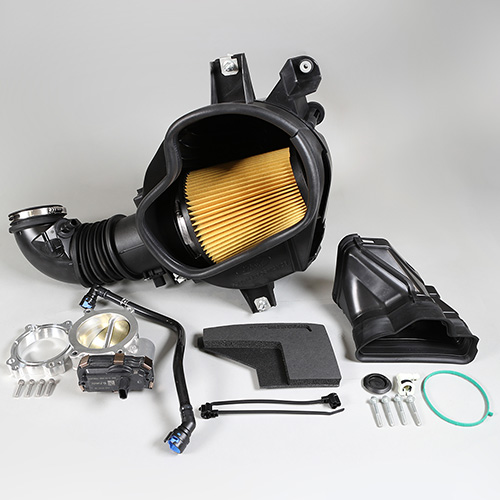 M-9603-M8B
Sold in Units of
Each (1)

The "Fifty States Street Legal" icon means that this part has been determined by the California Air Resources Board (CARB) not to have an adverse effect on emissions when installed and used properly in the application(s) identified in the product description. Under EPA and CARB policy, such parts may be installed in vehicles driven on public roads and highways.

Ford Performance engineered performance calibration, cold air intake, performance throttle body, and Pro Cal 4 calibration delivery system for 5.0L Mustang GT
Fits 2018-2021 Mustang GT




Features enhanced throttle response




Ford Performance calibrations feature exclusive Ford proprietary software and engineering

Ford Performance calibration is 50 state emissions legal with CARB EO (D-752-18)

Calibrations available for manual and automatic transmission

Allows gear ratio changes up to 4.09:1

Automatic calibrations feature optimized performance shift schedule

+42 lb-ft of torque at 2,000 rpm

+19 hp at 6,500 rpm

+18 lb-ft of torque at 4,500 rpm

Premium fuel, 91 octane or higher, is required

Calibrations are for US and Canadian vehicles only
Comes with a 3yr/36k mile warranty from new vehicle in-service when installed by a Ford dealer or ASE/Red Seal certified technician
Note: The Ford Performance Oil-Air separator M-6676-A50A does not fit due to throttle body stack up/alignment.
[Not for Bullitt™ or Mach 1].
This kit includes:



***Calibration and ProCal 4 tool are VIN locked. Please contact the Tech Line with additional questions***




***NOTE*** ProCal 4 software only available for Windows 7 or greater. Will NOT work with Windows 10 in "S Mode".
***NOTE*** ProCal 4 tool receives periodic firmware updates for greater usability and additional features. Please connect tool to PC periodically to receive the updates automatically.
Part Type
Engine: Power Packs
Package Dimensions
19" x 19" x 26"
Package Weight
19.25 lb(s)
Country of Origin
United States