Due to COVID-19 staffing precautions, the Ford Performance TechLine phone system is offline. We are still here to help. Live Chat is available. Click here for contact information.
PRESSURE PLATE BOLT AND DOWEL KIT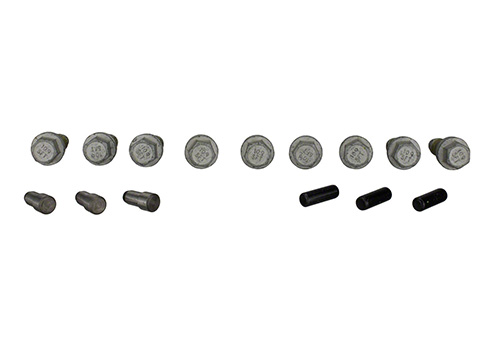 M-6397-B46
Sold in Units of
Each (1)
For use with Ford Performance and production flywheels on 4.6L and 5.0L Coyote engines to align and attach the 11" 6 or 9 bolt diaphragm-style pressure plate to the flywheel.
Increased clamp load over stock bolts on 1999-2010 applications. (see instructions for proper torque specs.)
This kit includes
Six dowel pins total, three stepped .249/.315" diameter, three 6.325mm diameter
Nine 10 mm X 1.5 pressure plate bolts for use with 11" modular flywheel
Dowels are necessary to align and stiffen the pressure plate shell. If the dowels are not used the clutch may chatter and the engine vibrate
NOTE: Does not include stepped dowels 6.635/7.04mm diameter or 7.944mm diameter dowels.
Part Type
D-Line: Clutch Related
Warranty Availability
Not Available
Packaged Dimensions
3.25" x 1.25" x 3.25
Packaged Weight
0.6 lb(s)
Country of Origin
United States