302/351W "X2" STREET CRUISER ASSEMBLED ALUMINUM CYLINDER HEAD 64CC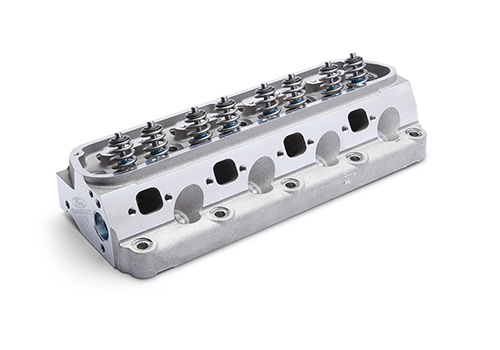 NEW AND IMPROVED "X2" CYLINDER HEAD IS MANUFACTURED FROM ALL-NEW TOOLING, MACHINED, AND ASSEMBLED WITH PREMIUM HARDWARE. THIS PROVIDES A FAST, EASY WAY TO BOLT ON SIGNIFICANT HORSEPOWER TO YOUR STREET CRUISER PACKAGE!
Click HERE to read a detailed Mustang360 article on Ford Performance "X2" cylinder heads!
For use on 289/302/351 Windsor-style engines
High quality original equipment style 356-T6 aluminum castings, precision machined, and assembled with premium components
Includes Ford Performance M-6507-J302 intake valves, M-6505-G302 exhaust valves, and PAC® 1219X Ovate Beehive valve springs
Feature 10-degree locks, steel valve spring retainers and stock valve seals
High temperature exhaust valve seats
Includes bronze guides
Features wider valve cover gasket sealing rail to prevent leaks
Machined for gasket seat spark plug

Compatible with all Ford Performance roller camshafts and aftermarket hydraulic roller camshafts up to .600" lift
Work with many aftermarket intake manifolds, headers, and valve train components
Compatible with bolt down rockers 1.6-1.7 ratio, always check rocker arm clearance to valve springs with production rocker arms
Depending on lifter preload, Ford Performance Rocker Shim Kits M-6529-A302 or M-6529-B302 may be required
Each aluminum head weighs approximately 25 lbs. lighter than each production cast iron head
Each head is leak tested prior to assembly
Specifications:
Combustion chamber volume 64cc
Intake port volume 188cc
Exhaust port volume 63cc
Intake flows approximately 230 cfm at .600" lift (at 28" of H20)
Exhaust flows approximately 160 cfm at .600" lift (at 28" of H20)
Premium stainless steel valves - 1.94" Intake and 1.54" exhaust.
Closed spring pressure is 145# @ 1.800"
Open spring pressure is 358# @ 1.175"
Notes:
Designed to be used on Ford Performance BOSS blocks; M-6010-BOSS302, M-6010-B302BB, M-6010-BOSS35195, M-6010-BOSS35192 and M-6010-BOSS351BB
Use Ford Performance M-6065-BOSS Head Bolt Set or Ford Performance M-6014-BOSS Head Stud Kit
Use Ford Performance Head Gasket M-6051-CP331 or M-6051-S331 or for "Big Bore" application, use M-6051-R351
Must use Ford Performance M-6065-D289 Head Bolt Kit to install heads on 289/302 production blocks
Ford Performance "X2" heads use either GT-40 or aftermarket intake manifolds. Check manifold for port match; not all intakes are compatible due to tall high-flow intake ports
"X2" cylinder heads use Motorcraft® AGSP-32C spark plugs
Use Felpro® exhaust gasket part number 1415
Will not fit 1986 5.0L with flat-top pistons unless pistons are notched for valve relief
Cylinder heads are sold individually

Part Type
Engine: Cylinder Heads
Warranty Availability
Not Available
Package Dimensions
9.25" x 8" x 23.25"
Package Weight
25.75 lb(s)
Country of Origin
United States