WIRE LOOM: FORD RACING LOGO, CHROME BASE/BLACK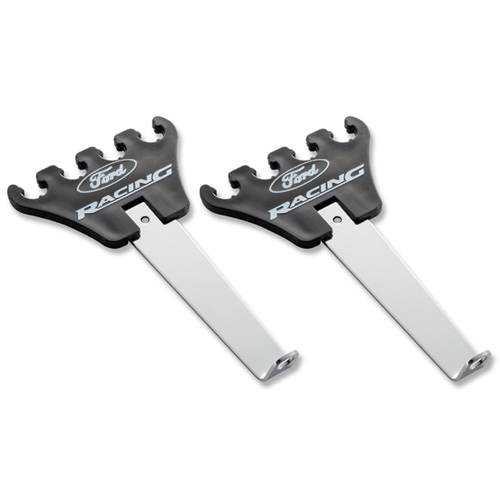 Give your engine that custom look with Ford Racing engine appearance parts. These include Valve Covers, Dipstick Tubes, Air Cleaner Kits, Wire Dividers, Fuel Pump Blockoff Plates and more. These parts are available in polished, chrome or black crinkle finish and give your engine a personalized look.
Ford 289/302/351W Valve Covers: The valve covers are die-cast aluminum and designed "tall" to clear most roller rockers. They also feature recessed Ford RACING, COBRA, or MUSTANG emblems with inlaid paint for a custom look. Sold in pairs, the valve covers include baffles and oil breather grommets.
Valve Cover Accessories: Ford Racing offers oil filler caps, valve cover vent caps and hold down bolts for Ford Racing valve covers.
13" Diameter Air Cleaners: Add a Ford RACING, MUSTANG or COBRA Air Cleaner to your engine for that customized look. These 13" diameter air cleaners fit both 2 barrel and 4 barrel carburetors and include a high-performance filter element. Ford logo air cleaner center nut is also included.
Oil Dipsticks: Update that beat-up factory dipstick tube with a Ford Racing dipstick tube kit. Dipstick kits are available in Chrome or a Chrome tube with blue anodized handle. Fits 1962-1978 289, 302, 351W engines.
Looms and Dividers: Straighten out that mangle of wires with Ford Racing wire looms and dividers. Dividers come six per package and wire looms are sold in pairs. Fit 289, 302, 351W engines.
Part Type
Electrical: Ignition Related
Warranty Availability
Not Available
Package Dimensions
4" x 6" x 0.25"
Country of Origin
United States