2005-2014 MUSTANG GT / 2007-2014 SVT ADJUSTABLE STRUT/SHOCK KIT
This part is no longer available.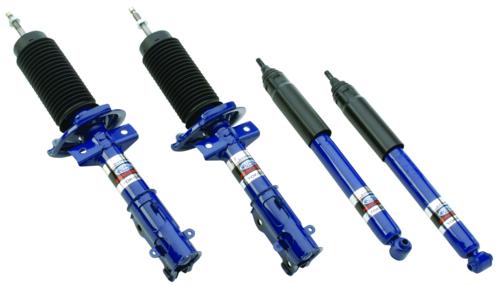 M-18000-C
Instruction Sheet
Not Available

Fits 2007-2014 Shelby GT500 (except 2013-2014 Track Pack) and 2005-2010 Mustang GT
Will fit 2011-2014 Mustang GT. Requires use of Ford Performance springs and upper strut mounts M-18183-C

Engineered specifically for improved handing on both stock ride height and lowered 2007-2012 SVT Mustangs and 2005-2014 Mustang GTs
Single adjustment with two-way response
Recommended for Mustang SVT use with M-5300-L Spring Kit, M-5490-B Sway Bar kit and M-20201-C Strut Tower Brace (2007-2009 SVT only)
Recommended for Mustang GT use with M-5300-P Spring Kit (1.0" drop), M-5300-K Spring Kit (1.5" drop), M-5490-A Sway Bar Kit and M-20201-S197 Strut Tower Brace
Will not fit 2013-2014 GT500 Track Pack
NOTE: Some factory fasteners are one time use. Please reference a Ford service manual for reuse information and correct torque specifications. May require alignment after installation
Part Type
Chassis: Shocks / Adj Suspension
Warranty Availability
Not Available
Package Dimensions
13" x 15" x 27.5"