347 CUBIC INCH 415 HP SEALED RACING ENGINE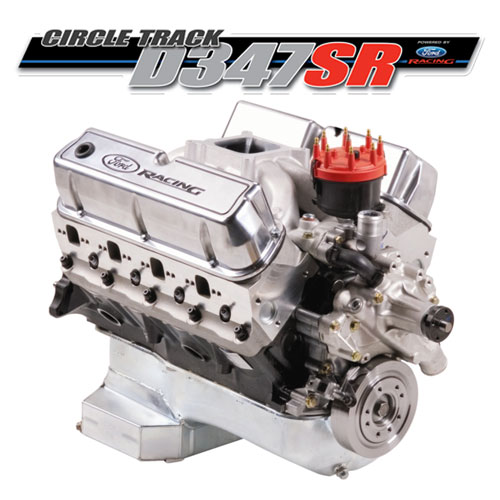 M-6007-D347SR
Sold in Units of
Each (1)
WARNING:

This part is designed and intended for competition use only or off-highway use only. It should not be installed on a vehicle that is driven on public roads and highways. Installation of this part on a vehicle driven on public roads and highways is likely to violate U.S. and Canadian laws and regulations relating to motor vehicle emissions.

Ford Sealed Racing Engines are built to professional racing series standards and deliver reliable lasting performance. These aren't built from repackaged production parts, but real racing parts like Forged Crank, Rods and Pistons with full floating piston pins. Each engine is assembled by hand with racing clearances. Built with the Ford Performance BOSS 302 block these engines deliver reliable and consistent performance lap after lap.

Built for asphalt and dirt circle track racing series that require a sealed racing engine
347 cubic inches - 4.030" bore - 3.400" stroke
BOSS 302 race block
415 hp @ 6000 rpm 400 lb-ft @ 4900 rpm (with headers, and a 650 CFM Holley carburetor not included)
10:1 Compression ratio (nominal)
SCAT® forged crankshaft
SCAT® forged steel cap screw connecting rods
Mahle® forged pistons with floating pins
Hydraulic roller camshaft M-6250-F303, .528'' lift intake and exhaust, duration at .050" is 226 degrees intake and exhaust
Double roller timing chain set M-6268-A302
High-performance 7 quart rear sump circle track oil pan
Ford Performance aluminum "Z" cylinder heads M-6049-Z304DA with 2.02" intake valves and 1.60" exhaust valves
PAC® 1219X ovate beehive valve springs
1.65:1 ratio roller rocker arms
Edelbrock® Victor Jr. intake manifold M-9424-D302
Edelbrock® Water Pump
SFI approved vibration damper
MSD® billet distributor
ARP® Head Studs
"Ford Racing" polished aluminum Circle Track valve covers M-6582-CT2
Ford Performance M-6600-D2 High volume oil pump
Engine is sealed for circle track competition where rules allow
Engine weight as equipped is 431 lbs. (includes 7 quarts of oil)
Competes directly with the GMPP® "604" crate engine.

Engine is internally balanced, "0" balance flywheel required
Flywheel is not included
INSTALLATION NOTES: See engine installation and tuning tips. Some or all of the following items may need to be changed from your original engine or modified for proper installation:
This engine has a rear sump performance oil pan and pickup, regular rotation timing cover and regular rotation water pump, and non-EFI valve covers. Depending on your application, a different timing cover, water pump, performance oil pan and pickup may be required. See installation notes
Fuel pump eccentric M-6287-B302 installed, allows use of mechanical fuel pump
A standard rotation water pump is installed on the engine. Other applications may require different water pumps and timing chain covers
Damper M-6316-D302, may require a spacer for pulley alignment.
Ford Performance flywheel M-6375-D302B not included but will work for most 157-tooth manual transmission applications.
Firing order 1-3-7-2-6-5-4-8 (5.0L HO and 351W order).
Built with current available parts.
Photo and specs may vary.
Shipping weight approximately 475 lbs.
Race Application-no warranty
***Limited supplies of sealed racing engines are manufactured to support specific racing series. For ordering information, please contact the Ford Performance Techline.***
Part Type
Engine: Complete Engines
Warranty Availability
Not Available
Package Dimensions
36" x 39" x 36"
Country of Origin
United States