302 CI 340 HP BOSS CRATE ENGINE WITH "E" CAM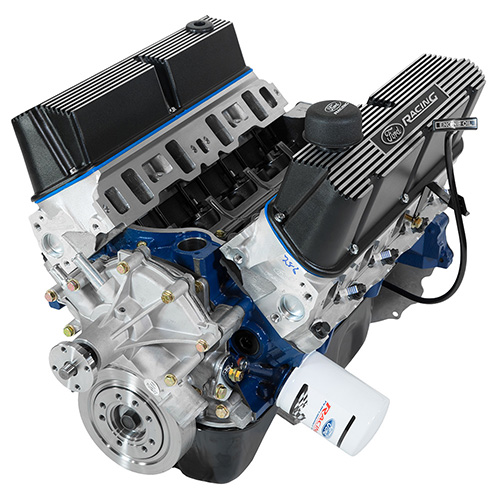 M-6007-X2302E
Sold in Units of
Each (1)
WARNING:

This part is designed and intended for competition use only or off-highway use only. It should not be installed on a vehicle that is driven on public roads and highways. Installation of this part on a vehicle driven on public roads and highways is likely to violate U.S. and Canadian laws and regulations relating to motor vehicle emissions.

New "X2302" Crate Engine features Ford Performance's newest cylinder head, the "X2", packaged with the legendary "E" Camshaft - For use with Auto or Manual Transmission
Utilizing all forged internals the X2302E crate engine is an excellent value and a solid foundation for any performance combination including forced induction. These crate engines feature race quality components at competitive pricing
302 Cubic Inches
340 HP
9.0:1 compression ratio (nominal)
Forged pistons
Forged steel connecting rods
BOSS 4-bolt main block M-6010-BOSS302
Hydraulic roller camshaft M-6250-E303, .498" lift intake and exhaust, duration at .050" is 220 degrees intake and exhaust
Double roller timing chain set M-6268-A302
Forged steel crankshaft
Can be used in kit cars, street rods, Mustangs, Fox-bodied cars, and trucks
(Rear sump pan fits most Fox body cars)
Ford Performance aluminum M-6049-X2 cylinder heads
Roller rocker arms
Does not include intake manifold or distributor (MSD distributor part no: M8598 recommended)
Does not include water pump
Built with all NEW Parts
Note: Results obtained using Edelbrock® Performer RPM AirGap intake and 570cfm carburetor.
INSTALLATION NOTES

: Some or all of the following items may need to be changed from your original engine or modified for proper installation:



Depending on your application, a different timing cover, oil pan and pickup may be required
Timing cover will work with most standard rotation water pumps
Engine has a rear sump oil pan and pickup, standard rotation timing cover and non-EFI valve covers
Fuel pump eccentric M-6287-B302

installed, allows use of mechanical fuel pump



Valve covers M-6582-W351PR

should fit most non-EFI applications. Optional valve covers sold separately



The damper M-6316-D302 may require a spacer for pulley alignment
Flywheel included - M-6375-D302B, will work for most 157-tooth manual transmission applications. For other transmissions use the proper neutral balance flywheel.
Intake manifold not included
Includes intake gaskets M-9439-A50 as well as pilot bearing
Firing order 1-3-7-2-6-5-4-8 (5.0L HO and 351W firing order)
Steel distributor gear required
Shipping weight approximately 525 lbs
Built with current available parts. Photo and specs may vary.
Engine installation and tuning tips can be found HERE
Part Type
Engine: Complete Engines
Packaged Dimensions
36" x 39" x 36
Packaged Weight
506 lb(s)
Country of Origin
United States