2018-21 MUSTANG 5.0L COYOTE 460HP MUSTANG LONG BLOCK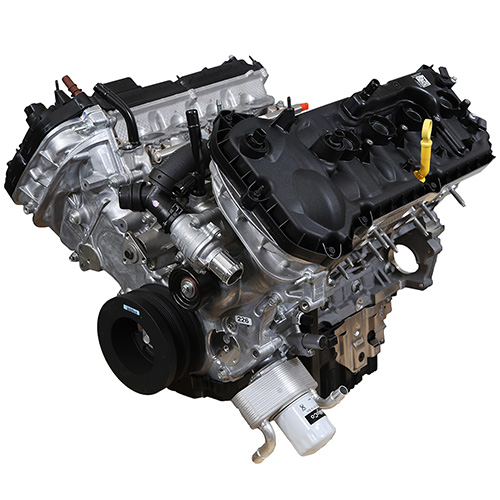 This long block assembly is the basis for the Ford Performance
M-6007-M50C
all-aluminum 2018-2021 5.0L Coyote crate engine. This engine is a modern 5.0L 32-valve DOHC V-8 that uses advanced features like Direct and Port Fuel Injection, Twin Independent Variable Camshaft Timing (Ti-VCT), high-flow cylinder heads, and heightened compression ratio to deliver 460 horsepower @ 7,000 rpm and 420 ft.-lb.+ of torque @ 4,600 rpm (with premium fuel). The lightweight plasma transferred wire arc spray aluminum cylinder block features cross-bolted main bearing caps and thick main bearing bulkheads for bottom-end strength, optimized oil drainback and windage control to improve high-rpm performance.
460 Horsepower @ 7,000 rpm
420 ft.-lb.+ of Torque @ 4,600 rpm
12.0:1 Compression ratio
Hypereutectic aluminum pistons
Sintered steel connecting rods as used on BOSS 302 Mustang
Forged steel crankshaft
Aluminum block which features plasma transferred wire arc spray weld liner coating
Longer, 12 mm head bolts for higher clamp load
10 qt capacity oil pan
High-flow aluminum cylinder heads, dual overhead camshaft (DOHC), four valves per cylinder, variable intake and exhaust camshaft timing
Engine mount bosses and bell housing mount pattern common to 4.6L modular engines
This long block assembly DOES NOT include:
Intake manifold/throttle body
Fuel rails/fuel injectors
Water pump pulley
Alternator
Exhaust manifolds
Flywheel/flexplate
Engine wiring/PCM
Photo and specs may vary



Engine weight: 445 lbs.
Part Type
Engine: Complete Engines
Package Dimensions
42" x 42" x 45"