2.3L HO MUSTANG ECOBOOST CRATE ENGINE KIT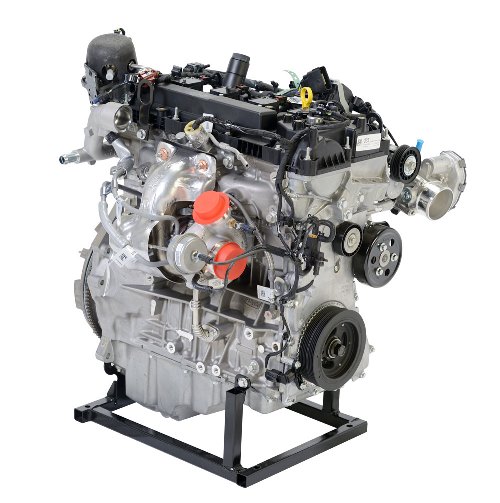 Ford Performance has procured a limited number of Mustang 2.3L HO EcoBoost engines!!! When they're gone, they're gone!!!
We are now offering the high-tech, 2021 Mustang 2.3L H.O.EcoBoost turbocharged engine as a crate engine kit. With turbocharging, direct injection and twin independent variable cam timing (Ti-VCT), this kind of performance comes standard with a dose of adrenaline. The swap possibilities are almost endless; from early street rods, kit cars, most generations of Mustang, to just about any other vehicle build. The Ford Performance Control Pack helps make for an easy plug and play installation (available separately).
2.3L EcoBoost engine as used in the 2021-2023 Mustang 2.3L EcoBoost HO
Rated at 330 hp @ 6,000 rpm, 350 lb.-ft. torque @ 3,000 rpm (with 93 octane fuel)
Designed for traditional rear drive installations
Improvements over base 2.3L engine:
Thicker cylinder liners
Cylinder head material upgrade
Upgraded pistons/rings
63mm turbo vs. 60mm in base 2.3L engine
Higher temp turbine wheel
Engine kit includes:
Engine
Production HO turbocharger
Starter and mounting hardware
Alternator and mounting hardware
Engine harness (not installed, must be used with Ford Performance Control Pack)
Throttle body (analog type - not installed, for use with Ford Performance Control Pack)
Engine kit uses Ford Performance M-6017-23T Control Pack (not included)
Click HERE for exterior engine dimensions
***M-6017-23T Control Pack requires calibration optimization to achieve rated 330HP***
Part Type
Engine: Complete Engines
Warranty Availability
Not Available
Box 1 Dimensions
5" x 14" x 24"
Box 2 Dimensions
42" x 39" x 42"
Country of Origin
Multiple Cntry Mfg. Locations