GEN 3 5.0L NMRA COYOTE STOCK SEALED ENGINE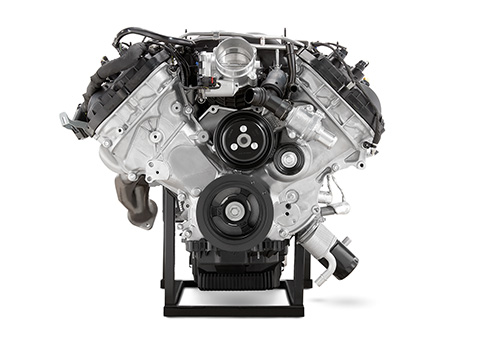 'Sealed' Gen 3, 2020 Coyote crate engine for use by NMRA-Coyote stock racing competitors ONLY*, the Ford Performance all-aluminum 2020 5.0L Coyote crate engine is a modern 5.0L 32-valve DOHC V-8 that uses advanced features like Twin Independent Variable Camshaft Timing (Ti-VCT) to deliver 460 horsepower @ 7,000 rpm and 420 ft.-lb.+ of torque @ 4,600 rpm (with premium fuel). The lightweight aluminum cylinder block features cross-bolted main bearing caps and thick main bearing bulkheads for bottom-end strength, optimized oil drainback and windage control to improve high-rpm performance.
460 horsepower 420 ft.-lb.+ of torque
12.0:1 Compression ratio
Hypereutectic aluminum pistons
Sintered steel connecting rods as used on Boss 302 Mustang
Forged steel crankshaft
Steel billet oil pump gears M-6600-M50A
Aluminum block featuring plasma transferred wire arc transferred spray weld liner
8qt capacity oil pan
Tuned composite intake manifold provides efficient air delivery and weight savings
80 mm single bore "drive by wire" throttlebody with variable runner control
Aluminum cylinder heads, DOHC, four valves per cylinder, Variable intake and exhaust camshaft timing
Includes manual transmission engine harness and flywheel
Vehicle harness and PCM not included
Use Ford Performance Controls Pack M-6017-M50B
Does not include alternator, for alternator kit see M-8600-M50BALT
Engine mount bosses and bell housing mount pattern common to 4.6L modular engines
Photo and specs may vary.
Engine weight: 425 lbs (without accessories)
*Proof of NMRA membership/competition license must be provided to frpp@ford.com. Contact the Ford Performance Parts Tech-line @ 800-367-3788 for more details.
Part Type
Engine: Complete Engines
Warranty Availability
Not Available
Package Dimensions
42" x 42" x 45"