2015-2020 F-150 2.7L, 3.5L & 5.0L CAT-BACK TOURING EXHAUST SYSTEM - REAR EXIT, CARBON FIBER TIPS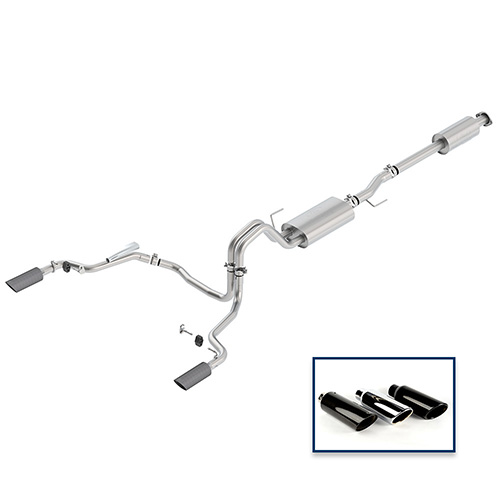 M-5200-F1550DTFA
Sold in Units of
Each (1)
Instruction Sheet
Not Available
Fits 2015-2020 F-150 2.7L, 3.5L & 5.0L with 141", 145", 157" & 163" wheelbase. 157" and 163" wheelbase trucks require an additional mid-pipe listed below
Ford Performance Touring exhaust systems are uniquely designed and tuned to provide an aggressive and throaty high performance sound that is sure to enhance your driving experience
50-State legal - Meets 95 decibel drive-by noise standard for aftermarket exhaust systems when installed on stock applications
Manufactured in the USA from high quality 304 stainless steel
Features ultra-smooth mandrel bends, warp-free flanges and superior craftsmanship
Dual rear exit with 4-inch carbon fiber exhaust tips

NOTE: 141" wheelbase trucks require shortening the mid-pipe. Please refer to installation instructions. Does not fit 122" wheelbase trucks.

Alternative Wheelbases:
Part Type
Engine: Exhaust Related
Warranty Availability
Not Available
Package Dimensions
21" x 13" x 66"
Country of Origin
United States