The Ford Performance TechLine phone system is online. Call us at 800-367-3788.
For the hearing- or speech-impaired: Please contact the Telecommunication Relay Service by dialing 711.
2017-2020 F-150 RAPTOR 3.5L CAT BACK SPORT EXHAUST SYSTEM - CARBON FIBER TIPS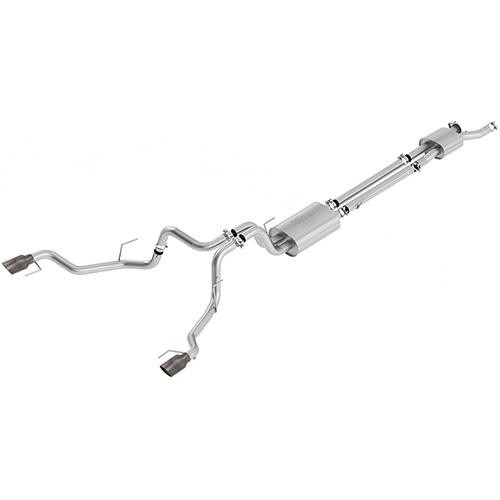 M-5200-F15RSCF
Sold in Units of
Each (1)
Instruction Sheet
Not Available

This Raptor exhaust system has been designed by Ford Performance engineers working with Borla Industries. It includes unique Ford Performance technology that is not used in other aftermarket systems. This design provides optimum performance and premium durability while eliminating the low-end (1,100-1,900 RPM) cabin drone that is inherent in some other aftermarket systems.
Fits 2017-2020 F-150 Raptor with a 145-inch wheelbase. 133" wheelbase trucks require an additional mid-pipe listed below.

Uniquely designed and tuned with one 3" passive exhaust valve to provide optimum performance, aggressive sound, durability and pure driving excitement
Manufactured in the USA from high-quality 304 stainless steel
Features 2.75" exhaust pipe with ultra-smooth mandrel bends, warp-free flanges and superior craftsmanship
Dual rear exit with 4.5" carbon fiber tips with printed Ford logo
Does not require removal of spare tire
NOTE: 133-inch wheelbase Raptor requires M-5248-F15R133 Mid-Pipe
Part Type
Engine: Exhaust Related
Packaged Dimensions
18" x 17" x 59
Country of Origin
United States