The Ford Performance TechLine phone system is online. Call us at 800-367-3788.
For the hearing- or speech-impaired: Please contact the Telecommunication Relay Service by dialing 711.
2011-2014 F-150 5.0L COYOTE CAT-BACK TOURING EXHAUST SYSTEM - 145" WB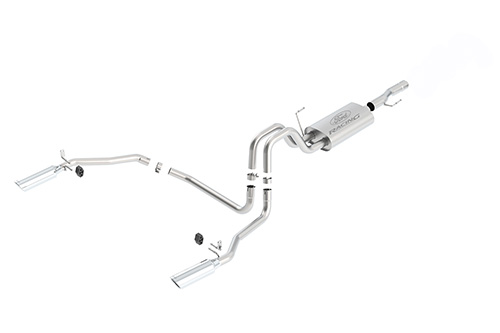 M-5200-F1550145C
Sold in Units of
Each (1)
Instruction Sheet
Not Available

Fits 2011-2014 F-150 5.0L Coyote with 145" wheelbase. 126", 133", 157" and 163" wheelbase trucks require an additional mid-pipe listed below.
Ford Performance Touring exhaust systems provide a sound that is deep and throaty, but still remains within the 95 decibel drive-by noise standards.
Meets 95 decibel drive-by noise standard for aftermarket exhaust systems when installed on stock applications
Manufactured in the USA from high-quality 304 stainless steel
Features ultra-smooth mandrel bends, warp-free flanges and superior craftsmanship

Dual rear exit with chrome plated 4-inch round stainless steel exhaust tips
Does not require removal of spare tire.
Part Type
Engine: Exhaust Related
Warranty Availability
Not Available
Packaged Dimensions
16" x 13" x 61
Country of Origin
United States